The most clever use of late 2000s internet nostalgia goes to… Addison Rae. On Nov. 20, the TikTok triple threat posted a video in which she and her Thanksgiving co-stars dance to Metro Station's seminal bop "Shake It."
Surprisingly, it gave everyone on X (formerly Twitter) the 2008 throwback moment we didn't know we needed (and made us feel old in the process).
The viral video shows the Thanksgiving cast lip-syncing to the lyrics, dancing with their dogs, and creating mismatched choreography. All of this was shot on the classroom-esque sets and back rooms of the horror movie, which only adds to the middle school flashback vibes. "Happy THANKSGIVING from our little set family to yours," Rae captioned the clip.
The clip was filmed entirely on a MacBook, using classic Photo Booth video filters, and seemingly edited with iMovie, as most DIY dance videos were.
It's not high-budget, but it was enough to bring back all of the 2008 nostalgia.
The 2008 Nostalgia
Fans on X marveled at how Rae's behind-the-scenes video gave them so many flashbacks of creating lo-fi dance videos to late 2000s jams in middle and high school.
"Oh this is kind of… everything to me actually," one fan wrote, calling it "pure nostalgia for 2000s kids," while another remarked that "Cousin is taking it back to 2008 and she killed it idk."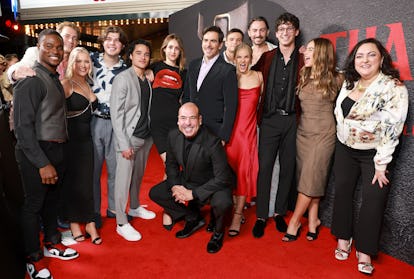 A fan said the clip was "making a music video with your besties to post on facebook coded," while another commented that "the 'goofing around in the computer lab on Photo Booth' energy this emanates is truly immaculate."
"She went to the Justin Bieber school of MacBook photobooth music videos," one user said.
A Moment In History
One person said this video "quite literally might be the most significant thing she has ever done for pop culture," while another writer was brave enough to declare that Rae managed to pull off something that many simply couldn't without even trying.
"Many directors have tried and failed to capture the feeling of a hyperspecific cultural cognizance long after that period ends and have completely failed compared to the taste of 2008 that Addison Rae has successfully concocted here," they stated.
She may be making us feel old, but at least she's doing it well.