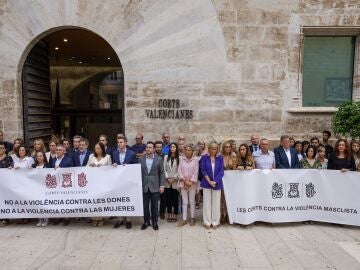 Never before has there been such an evident division in a moment that is understood as unity against crimes of gender violence. He "banner game" As the president of the Generalitat, Carlos Mazón, called it yesterday, he has turned these concentrations of rejection into another scene of the political contest.
Although the real drama is that in the last three months they have been four women murderedprotests were held yesterday in which up to three different banners could be seen.
Just a week after the Les Corts Board approved – with the votes of PP and Vox – a protocol to carry out this type of actsthree minutes of silence were called at the doors of the Palau dels Borja.
For the first time, Vox did not separate itself from the rest because the banner said: "No to violence against women". However, the PSPV and Compromís chose to recover the one that was used in the last legislature with the motto: "Les Corts against sexist violence." In this way, as they did later, they stressed the importance of "the name given to things because denialism also kills," said the general secretary of the PSPV, Ximo Puig.
The division was also extended into two more scenarios in which, until now, unity had been maintained.
The Valencian Generalitat, with President Mazón at the head, went out to the Plaza de Manises. The procedure was the same as in the previous legislature. All the members of the Consell gathered in silence without any banner and the vice president of the Consell and person responsible for Equality, Susana Camarero, spoke a few words of rejection.
However, three provincial deputies from Compromís who joined the call brought a sheet of paper where one could read: "Against sexist violence."
The scene that was reflected at the doors of the building was even more varied. Valencia City Council. During the Compromís and PSPV Government, a banner was displayed only if the victim lived in the city. Well, yesterday Compromís carried an A4 size poster that said: "Enough of sexist violence, we want them alive"while the PSPV held a banner with: "No to sexist terrorism".
The socialist spokesperson, Sandra Gomezdefended the need for this action saying that he did not want a "decaffeinated act" to which Vox could join.
He president of the Generalitat, Carlos Mazón, argued that in Les Corts Valencianes they made a change "seeking unity" and taking a motto that the Government of Spain had used, "It seems like they don't like us being united."
The Council spokesperson, Ruth Merino, insisted that work is being done to put an end to this scourge where what is important, "is not the name, but the facts." He, therefore, played down the importance of the fact that the Ministry of Justice yesterday condemned the murder of two women and a man – who died at the hands of his partner – and defended that he fights "to eradicate all types of violence in the domestic sphere."