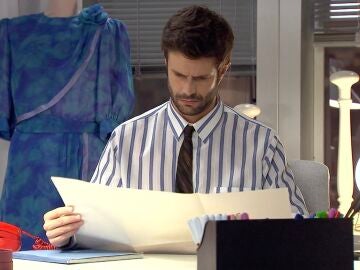 The episode of this Wednesday, November 22, "Love is forever" will show us how the Quevedo family continues to face growing tensions that threaten to further fracture family ties. Elena and Federico, increasingly isolated in their fight against Dolores and her family, have the support of Crespo, who agrees to take drastic measures to prevent the Gómez's closeness to Malena.
Quintero, tormented by his fears, is reluctant to leave the house. However, Silvia, aware of the need for Quintero to face his fears, decides to help him in Losada's case in exchange for him going for a walk with her.. The plot develops with an agreement that could lead Quintero to overcome his emotional barriers.
In the church, Benigna is filled with happiness when she discovers stains that supposedly form the image of Doña Amalia on the façade. Meanwhile, Sebas and Gala, behind Carlos's back, decide to participate in the MOC demonstration, generating possible tensions in their relationship.
At Construcciones Quevedo, The relationship between Federico and Román is strained, but an unexpected rapprochement occurs between father and son during a meeting with an important businessman. However, the most complicated situation is that of Elena and Lola, since the Quevedo matriarch threatens retaliation against the dressmaker's family. Elena is determined to make Dolores and her family disappear from her life.
Isidro and Sofía, despite last night's outbursts, manage to reconcile. Crespo appears at King's, trying to extract Sofía and endangering Isidro in the premises. Rafa intervenes to avoid problems, but Isidro is forced to approach Crespo's entourage in search of the truth.
Marcelino, for his part, receives bad news: the second program is an even bigger success. Fame overwhelms Marcelino, who is overwhelmed by the agenda prepared by Pilar.
As night falls, at Quintero's house, Silvia cannot control her impulse and takes an important step by kissing the lawyer again. Meanwhile, at Construcciones Quevedo, Chimo encourages Román to return to Lola, and Román discovers that Victoria is setting up her own brand with Alicia, increasing tensions and suspicions in the Quevedo family. The intrigues continue in the star series of Antenna 3,