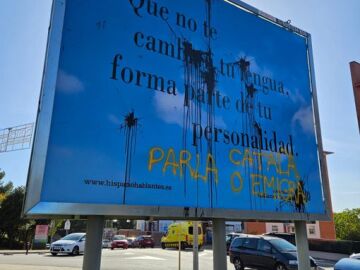 Unknown people threw black paint against the banner of the organization Hablamos Español and under the motto "Don't let them change your language, it's part of your personality," and wrote "Parla català o emigra" ("Speak Catalan or emigrate."
Ten days ago We speak Spanish began a campaign in the autonomous communities with linguistic co-officiality with the motto in favor of Freedom of Choice of Language, "Don't let them change your language, it is part of your personality." They have not yet presented it, waiting to have all the operational supports, but they have already ruined one and censored another.
The fence installed in Barcelona has appeared as you see in the image and the one installed at the Palma de Mallorca Intermodal Station has been censored and removed by the Balearic Government, despite having the proper permit and having paid for the two-month duration. of the Bell.
In both the case of Palma and Barcelona, ​​the relevant legal procedure has already begun. Recently, the Orense Police were able to identify the culprits of the vandalization of a Hablamos Español billboard installed in the city last summer, with the slogan "Welcome to Orense, a city that in Galician is called Ourense."
The president of Hablamos Español, Gloria Lago, will sign the complaint, which will probably be presented today at the corresponding police station.
"We hope that these intolerant people, who cannot stand messages as white as this one, can also be identified. With their behavior, they portray themselves, you just have to see what they have written on the fence," he denounced.