Countless Grey's Anatomy viewing guides offer episode lists detailing everything from Meredith and Derek's relationship timeline to the many times your favorite surgeons died (or almost died). But if you want to re-experience the show in a far shorter marathon, that's easy: Just watch the Grey's Anatomy Thanksgiving episodes.
Despite comprising a tiny percentage of the medical drama's total run (there are more episodes about coma ghosts than turkeys), Grey's Thanksgivings capture the chaos of the surgeons juggling their all-consuming job with "normal" milestones like, say, an adult relationship or a perfectly trimmed turkey dinner.
Izzie (Katherine Heigl) puts it best in Season 2's "Thanks for the Memories," where she explains to Burke (Isaiah Washington) why she's so into Thanksgiving.
"We have this one day. One day where we get to be like everybody else. One day to be normal. One day where nobody lives and nobody dies on our watch," she says. "It's like a gift. So I just thought we should appreciate it."
Ever the idealist, Izzie doesn't see her hopes go to plan — but that's what makes Grey's Thanksgiving episodes so refreshingly real. They tap into the characters' inner conflicts, relationship drama, and precarious work-life balance in ways that illuminate the show's messy heart.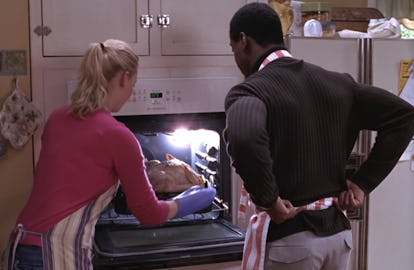 Meredith Vs. Herself
Meredith (Ellen Pompeo) might describe herself as "dark and twisty," but she rarely lets her unease come to the surface. So, when her internal conflicts go on full display in "Thanks for the Memories," it starkly contrasts the warm and fuzzy expectations of the holiday-themed episode.
Here, she sneaks out of Izzie's Thanksgiving prep and trades that turkey emergency for one at the hospital. She helps a patient who regains consciousness after 16 years, finding out that his wife and son have moved on in his absence.
Meredith relates it to her rocky dynamic with Derek (Patrick Dempsey), who's recently reunited with his estranged wife Addison (Kate Walsh), and uses it as her sign to move on, too. She returns to Izzie's house, where she watches her friends having dinner through the window… and then leaves and goes to a bar by herself. (Really, Meredith?!)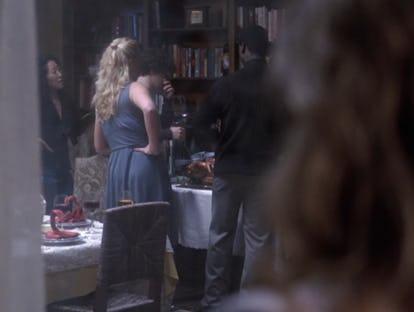 It might be the most on-the-nose scene in Grey's Anatomy history, but it aptly represents Meredith's inner conflict: her belief that her life's tragedies have made it impossible to connect with others — even though she wants to do just that.
Work-Life Balance (Or Lack Thereof)
When Meredith does socialize, it's at work. The surgeons' demanding schedules (especially when they're still residents) make it hard to find time to sleep or shower, much less throw together a holiday feast. This central truth leads to hilarious moments like in Season 6's "Holidaze," where Meredith, Cristina (Sandra Oh), and Alex (Justin Chambers) have Thanksgiving lunch in the middle of a skills lab.
On any other show, it'd be a sad sight — but this is Grey's Anatomy. "This is the best Thanksgiving ever," Cristina says. "No obnoxious relatives, no stupid traditions, no going around the table and saying what you're grateful for."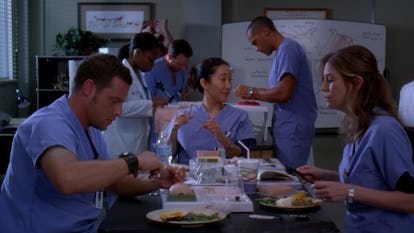 Even when they advance in their careers, the Grey's surgeons don't necessarily have quiet holidays at home. Case in point? Season 18's "Every Day Is a Holiday (With You)," where winter weather prevents Meredith from leaving a Minnesota work trip — and she spends a steamy, snowed-in holiday with Nick Marsh (Scott Speedman).
All The Relationship Drama
Not all romantic trysts can be fun, though. Tensions can run high during the holidays, so it makes sense that Grey's Thanksgiving episodes also feature plenty of juicy relationship drama. "Holidaze" is when Mark (Eric Dane) confirms that Sloan (Leven Rambin) is, indeed, his daughter, before announcing to his girlfriend Lexie (Chyler Leigh) that she'll be moving in with them.
Lexie's so shocked she cuts off the tip of her finger while chopping veggies, and she is still sporting a bandage by the time Christmas rolls around later in the episode — a handy reminder that, like physical injuries, emotional ones tend to linger (and #Slexie fans know that Sloan's arrival was a disruption the couple would never recover from).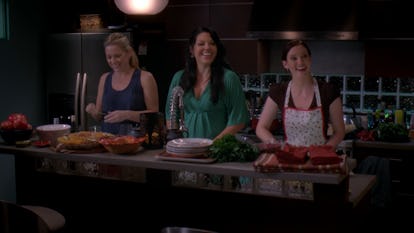 Season 10's "Somebody That I Used to Know" proves that it's not just romantic relationships that can strain under holiday pressure — with Meredith and Cristina at odds, making the Thanksgiving dinner invite situation especially precarious.
"My best friend's a mean girl," Meredith laments to Derek. "Why did I choose that? It never bothered me when she was mean to other people, but it really sucks when she's mean to me." While they go on to patch things up later in the season, spending the holiday apart marked a decisive low in their friendship.
Thankful For… Found Family
As messy as Grey's Thanksgivings can be, they ultimately highlight the surgeons' ability to lean on each other and forge makeshift families together when it matters most.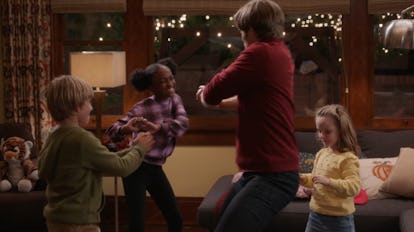 From Burke coaching Izzie on how to check a turkey's temperature to Amelia (Caterina Scorsone) and Link (Chris Carmack) throwing together an impromptu dinner for Meredith's kids when she's snowed in, Grey's Thanksgiving episodes convey the quiet kindness of being there for someone on a holiday that can be pretty stressful.
With new surgeons joining the show every season, these vignettes help audiences connect with the ever-growing cast in relatable ways. After all, you might never be in a hospital love triangle — but you've surely screwed up a holiday dinner at some point.