The Golden Bachelor star Ellen Goltzer may have been eliminated from the competition, but the Florida retiree is still delighting fans.
In a deleted Golden Bachelor scene shared on the show's official Instagram account on Nov. 20, Ellen narrates a reenactment of an incident that occurred during filming.
"So get this, it's four o'clock in the morning," Ellen begins, before joking: "I'm going to the bathroom, which our generation does a lot."
In the deleted scene, Ellen goes on to share that fellow Golden Bachelor contestant Faith Martin suddenly entered the bathroom at the same time.
"She is in a half sleep and she turns her body to go sit down at the toilet," Ellen narrates, adding that as Faith pulled down her pajama bottoms, she quickly responded: "Please don't sit down. I really don't feel like getting peed on at 4 o'clock in the morning — I'm really not that kinky."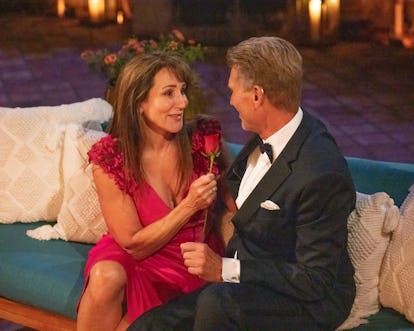 Fans Are Loving It
The Golden Bachelor fans were quick to comment on the newly-released deleted scene, with one viewer writing "This is everything!" along with a string of laughing face emojis.
Meanwhile, other fans wrote that moments such as Ellen and Faith's bathroom run-in is what makes The Golden Bachelor "way more fun to watch than all my other dating shows."
"Forget the young Bachelor and Bachelorette shows," another commented. "They should just do Golden's from here on out. These gals need a spin-off show of their own, too."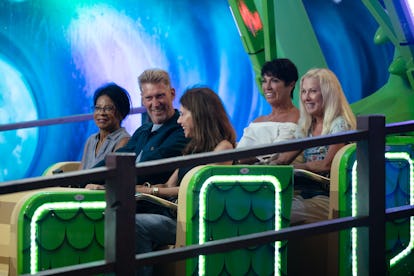 Ellen & Faith Remain Fan Favorites
Ellen and Faith were both eliminated from the reality competition ahead of the finale on Nov. 30. However, the pair remain firm fan favorites.
The Golden Bachelor himself, Gerry Turner, said eliminating Ellen was his "most difficult decision" on the show. Viewers were also surprised by her exit, and one fan described Ellen's departure as "the most shocking Bachelor goodbye in years."
Many were equally shocked by Faith's Golden Bachelor exit, with one viewer commenting on Instagram, "I am still recovering from this one" in the wake of her elimination.