At first, video games and beauty might seem like an odd pair. But recently, the two categories have seen more crossover than ever. Just this summer, Sephora launched Sephoria, it's IRL event, and gamified it with virtual reality games. E.l.f. recently collaborated with Loserfruit, one of the biggest gaming streamers on the internet, and released a limited-edition makeup kit that sold out immediately. Now, a new player steps into the (beauty) game — Dove's Code My Crown Campaign, launched in collaboration with A.M Darke.
As the creator of the Open Source Afro Hair Library, A.M. Darke tackles a larger issue: a huge lack of representation when it comes to Black hair in the video game space. According to Dove's research, 85% of Black gamers believe video games poorly represent textured hair and 91% of Black gamers are eager to see themselves as characters reflecting their own experiences. And yet, the representation of Black hairstyles and textures in avatars are few and far between, with many of them relying on outdated and racist stereotypes and tropes. "You can tell it's not Black people making these depictions," A.M. Darke says.
With Dove's new Code My Crown campaign, gamers can access a library of Black hairstyles created by independent 3D artists and in partnership with celebrity hairstylist Nai'vasha Grace, all for free. From twists to protective styles to natural hair in different curl patterns, it's a gold mine for game developers aiming to bring more authenticity and representation into the digital world.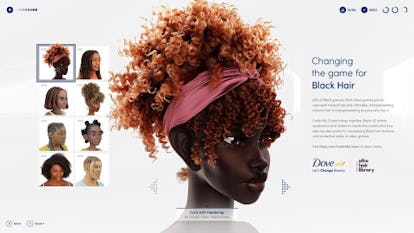 Along with championing the CROWN (Creating a Respectful and Open World for Natural hair) Act — legislation that specifically protects against race-based hair discrimination in workplaces and schools — Dove also launched Real Virtual Beauty in 2022, a powerhouse initiative for breaking stereotypical female depictions in the gaming space, and designed the self-esteem focused Roblox game, Super U Story. As the beauty and gaming industries continue to intertwine, it's clear that Dove is leading the way with the message that beauty isn't just about aesthetics, just like video games aren't just about mindless entertainment. Everyone deserves to see themselves accurately represented as the hero of the game — and the Code My Crown campaign brings that goal one step closer.