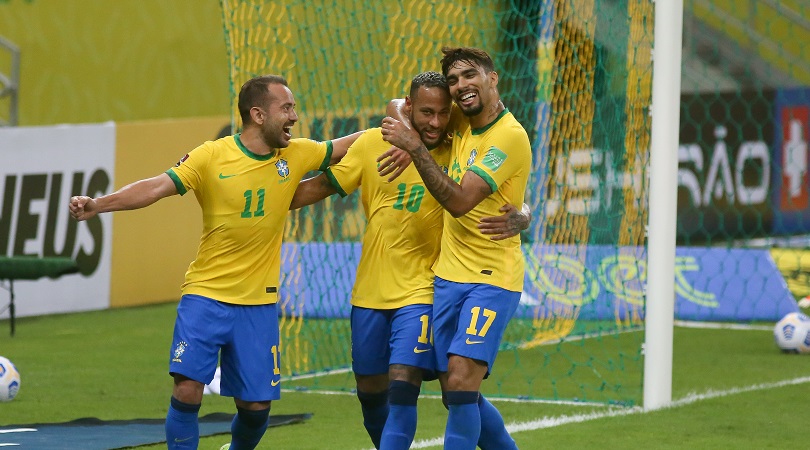 The Brazil World Cup 2022 squad has been announced – and the big news is that Liverpool forward Roberto Firmino doesn't make the team.
Brazil haven't taken on European opposition since a March 2019 friendly against the Czech Republic. The last time they went this long without meeting a rival from Europe was before the 1954 World Cup. 
The anomaly has brought questions at nearly every press conference and, for a while, served to downplay the team's record-breaking qualifying form. The Selecao won 14 of 17 games (the clash against Argentina that was abandoned for COVID-19 shenanigans was ultimately cancelled), racking up 40 goals and conceding just five.
But such is the excitement around Brazil now, the mood has drastically altered. Essentially, the fixture list quirk is Europe's loss. They have no idea about what's coming for them.
For most of the road to the Qatar World Cup 2022, Brazil resembled a pragmatic outfit who lacked their traditional flair and charisma and relied too much on Neymar's eight-goal virtuosity. That changed around mid-2021 with the rise of players who manager Tite refers to as "perninhas rapidas" (fast little legs). Raphinha, Antony, Vinicius Jr, Rodrygo and Gabriel Martinelli have brought a slippery new dynamic to the Selecao, turning it into a side that – for maybe the first time since 2006 – fans truly believe can win the World Cup.
Add to that a backline formed of Alisson (with Ederson a luxury reserve), Thiago Silva and Marquinhos that has been almost impregnable over the past four years, and suddenly the hype seems more than justifiable.
Brazil are far better prepared this year. In June 2016, Tite took charge of a team midway through qualifying that nearly didn't make it to Russia 2018 at all, and then struggled after injuries to Neymar, Dani Alves and Renato Augusto. Things are different now. With more tactical options, the five-time world champions have even resembled Pep Guardiola's Manchester City, the full-backs moving into central midfield when they have possession.
To win a first World Cup since 2002, Brazil will hope to benefit from the familiarity brought by a good glug of the squad plying their trade in the Premier League together. Otherwise, they will be matching their longest ever drought (1970 to 1994) by going at least 24 years between trophy lifts – and that doesn't bear thinking about.
Brazil World Cup 2022 squad
Brazil World Cup 2022 squad: The final 26-player team
GK: Alisson Becker (Liverpool)
GK: Ederson (Manchester City)
GK: Weverton (Palmeiras)
DF: Dani Alves (UNAM)
DF: Thiago Silva (Chelsea)
DF: Marquinhos (PSG)
DF: Danilo (Juventus) 
DF: Alex Telles (Sevilla)
DF: Alex Sandro (Juventus)
DF: Eder Militao (Real Madrid)
DF: Bremer (Juventus)
MF: Bruno Guimarães (Newcastle)
MF: Casemiro (Manchester United)
MF: Lucas Paqueta (Lyon)
MF: Fabinho (Liverpool)
MF: Fred (Manchester United)
MF: Everton Ribeiro (Flamengo)
FW: Neymar (PSG)
FW: Gabriel Jesus (Arsenal)
FW: Vinicius Junior (Real Madrid)
FW: Antony (Manchester United)
FW: Richarlison (Tottenham)
FW: Raphinha (Barcelona)
FW: Rodrygo (Real Madrid) 
FW: Gabriel Martinelli (Arsenal)
FW: Pedro (Flamengo)
Brazil top scorers
2 goals – Richarlison
Brazil yellow cards
No Brazil player has received a yellow card at World Cup 2022. 
Brazil manager
Who is Brazil's manager for the 2022 World Cup?
A charismatic figure who at times comes across like a priest for the way he dresses and speaks, Tite has already announced that he will leave his post after the World Cup. He has transformed the team after the 7-1 Gotterdammerung in 2014 and their Copa America group-stage exit two years later. He'll be a difficult man to replace.
Brazil's star player
Who is Brazil's best player?
Neymar is just two goals away from equalling Pele's record as Brazil's all-time top scorer. If that isn't enough motivation, the PSG superstar has already hinted that this might be his last World Cup. Now aged 30, more mature and with a talented supporting cast, the No.10 must lead his team and leave the comedy theatrics behind.
How many players are Brazil taking to the 2022 World Cup?
National managers were allowed to bring 26 players to last summer's European Championship for the first time at a major tournament, as a special measure brought in due to the COVID-19 pandemic – while last year's Copa America allowed squads of 28 players.
Now it has been announced that 26-player squads will return for the Qatar World Cup, an expansion from the usual 23-man teams.